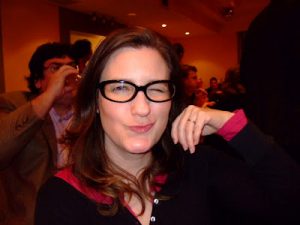 Amanda Conner started out in comics working on small projects for Marvel and Archie. She had been working as an illustrator for New York ad agencies Kornhauser and Calene and Kidvertisers. She worked on a number of launches and campaigns such as Arm & Hammer, PlaySchool and Nickelodeon, to name a few.
However, loving comic books and cartooning the most, Amanda found herself working for Marvel on their Barbie line (many of Amanda's covers were made into designs for the line of Barbie toys), Disney line which included the Gargoyles books…At the same time she was illustrating "Soul Searchers & Co." for Claypool Comics and worked on other Marvel projects, such as Excalibur for the X-Men line and "Suburban Jersey Ninja She-Devils".
During an assignment for Crusade ('Tomoe') she and Jimmy Palmiotti became a real team as penciller/inker.
Amanda then moved on to do what is probably one of her best known works. She did several years as penciller on the hit series "Vampirella" for Harris Comics and drafted 24 issues. While illustrating "Vampirella", Amanda worked with the top writers in the field, Grant Morrison, Mark Millar and Warren Ellis.
Continuing to expand her horizons, Amanda illustrated the best-selling crossover "Painkiller Jane vs. the Darkness", and went on to work on "Painkiller Jane" #0 (the origin book). She also wrote and illustrated a story for "Kid Death and Fluffy".
Since then, Amanda has moved on and has worked on many of the top titles in comics such as "Lois Lane", "Codename: Knockout", and "Birds of Prey" for D.C. Comics Vertigo line, "X-Men Unlimited" for Marvel, co-created "Gatecrasher" for Blackbull Comics, and "The Pro", an Eisner nominated creator owned book for Image Comics with Jimmy Palmiotti and Garth Ennis.
Amanda, together with artist/inker/writer Jimmy Palmiotti and writer Justin Gray work together via "Paperfilms"; a multimedia entertainment studio, engaged in screenwriting, art production and multimedia development.
She continuously produces cover work for Marvel Comics, DC Comics and an assortment of independent titles.
Amanda's work can also be seen outside the comic book community in such places as ABC'S Nightline, the New York Times, Mad Magazine, the new sci-fi Stan lee " so you want to be a superhero" series and the upcoming Disney underdog movie character designs for film and television, character designs for the Los Angeles avengers stadium football team and is featured in a Biography magazine commercial on A&E. Amanda does spot illustrations in "Revolver" magazine each month and has had a huge success with the JSA Powergirl miniseries in previous years, each issue going into 3rd printings.
Amanda is currently working on the highly publicized Before Watchmen: Silk Spectre series with Eisner winning creator Darwyn Cooke.