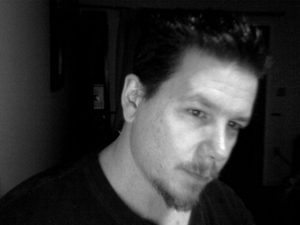 Justin Gray
Comics Credits
Wildstorm: 21Down, The Resistance, The Twilight Experiment
DC Comics: Jonah Hex, Hawkman, The Monolith, Batman: Legends of the Dark Knight, Crisis Aftermath: The Battle for Bludhaven, JLA Classified, Uncle Sam's Freedom Fighters
Marvel Comics: Punisher Red X-Mas, Punisher Bloody Valentine, Daughters of the Dragon, Kid Colt & Arizona Annie, Spitfire, Marvel Adventures Fantastic Four, Heroes for Hire, Claws.
Image Comics: Cloudburst, Fear Agent
Moonstone Books: Mr. Keen, Tracer of Lost Persons and Vengeance of the Mummy.
Tokyo Pop: Zeroes.
Justin has held various jobs including, fossil hunting, microphotography of 20 million year old insects and plants trapped in amber, seminars and exhibitions on the cleaning, mining and identification of said prehistoric insects for the American Museum of Natural History and the Smithsonian. He traveled to the mountains of the Dominican Republic and mined amber.
Along with eccentric inventor Roy Larimer, Justin has delivered previously undiscovered species of insects to the curator of entomology at AMNH.
After being informed by the Houston Institute for Technology that it was impossible, he and his brother Collin helped Roy Larimer develop the first laser operated shadowbox, which was used to house meteorite fragments for the Philips Auction House in Manhattan.
Justin spent a brief time working in an Alaskan fish processing plant, trapped on a small island and would not recommend working in a fish factory to anyone of sound mind and sober constitution.
In the summer of 1997 he traveled to the Wyoming badlands to help unearth the remains of a triceratops.
That same year, under the AMNH banner, he traveled to Tokyo and gave seminars on the polishing of fossil amber for thousands of terrified citizens. Fortunately there were no casualties or lizard sightings.
He has worked as a victim advocate for Victims Assistance of Westchester, a not-for-profit organization that helps victims of crime.